Description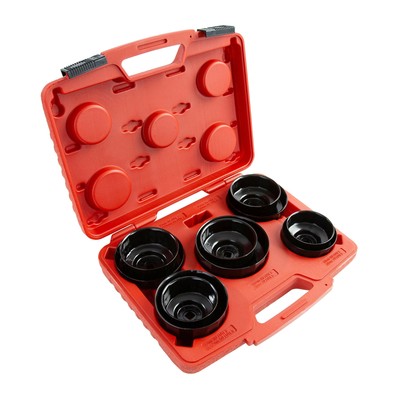 OEMTOOLS 27196 10 Piece Cap Style Oil Filter Wrench Set, Red and Black, 10 Oi…
---
Product Overview
Oil changes are a fact of life in any mechanic's day-to-
day. The process may be simple, but when a stubborn oil filter won't budge,
things can get messy and stressful. Cut out the confusion with the OEMTOOLS 10
Piece Cap Style Oil Filter Wrench Set. Cap style oil filter sockets are
designed to remove hard-to-reach multi-flute automotive replacement oil
filters. The die formed socket grip ensures a non-slip performance, making of
removing and replacing oil filters easy for first-time users and old pros
alike. Screw the appropriately sized oil filter removal tool onto the filter
housing like you would any container. Then, attach your 3/8" socket wrench to
the cap oil filter and unscrew. One socket wrench will fit each cap in the oil
filter cup set, guaranteeing that filter removal will be quick and painless.
The snug fit of the filter cap tool onto the oil filter will ensure an easy,
controlled removal with minimal spillage, simplifying an oil change. With ten
cap style oil filter end wrench sockets, each configured to fit a differently
sized oil filter, this oil filter socket kit is perfect for shops that work on
a variety of models every day. Keep a personal set on hand, suiting every
vehicle that comes into your life. Your motorcycle oil filter wrench needs
will be met as easily as that of your personal vehicle. Each oil filter wrench
small and large fit snugly in a compact red carrying case. Made of sturdy
plastic with fastening locks, the oil filter cap wrench set can easily be
stored out of the way and brought out when you need it. With all ten cap
filter wrench sockets in one place, you'll never waste time tracking down the
right car oil filter wrench for the job. OEMTOOLS seeks to design tools that
marry innovation with practicality. Oil changes are a necessary task for every
vehicle, but this oil filter remover kit means it doesn't have to be a chore.
With the OEM oil filter wrench set, utility and convenience can come together
and lighten your load. From the Manufacturer The OEMTOOLS 8 Piece Professional
Brake Tool Set contains the most popular brake tools for servicing drum brakes
on many import and domestic vehicles. Features BMC and high quality handles as
well as five spring tools that will service most drum brakes.